Schiedam Distillers District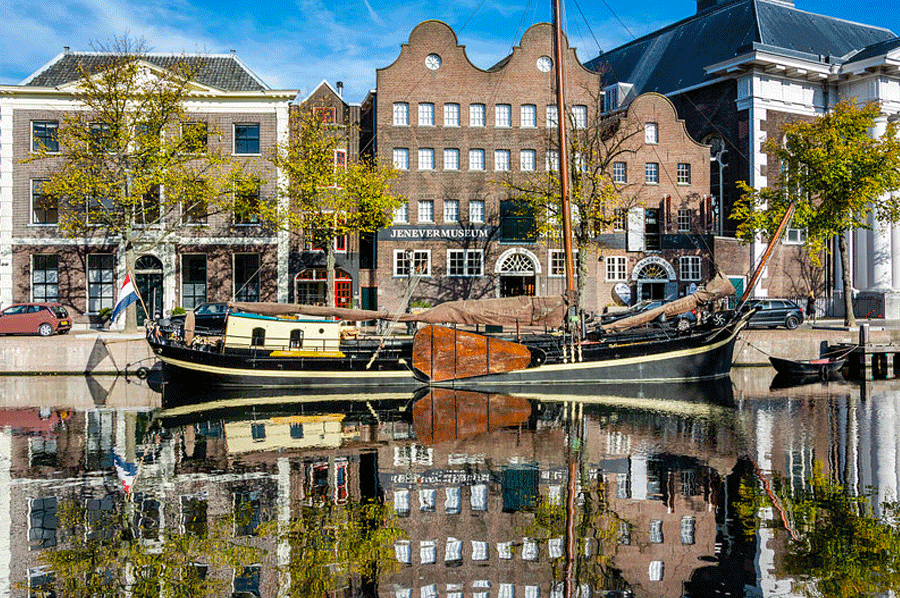 Schiedam Distillers District
In Schiedam you can smell, taste and see gin. Countless gin distilleries and roasters. The tallest windmills in the world and historic warehouses.
With its old-Dutch city centre, distillers district, Schiedam is a surprising jewel in The Netherlands.
On the banks of the river, surrounded by greenery. Romantic canals, historic drawbridges that bridgekeepers still raise by hand. With lively bars, tasty restaurants and an inspirational cultural life, just 10 minutes away from Rotterdam.
Schiedam in a Day
Canal Cruising
Historic canal houses and distinctive drawbridges. Take a trip down historic canals on a Schiedam Fluisterboot (whisper boat), from April to October. Our local guide will tell you captivating stories about the city.

Stroll through the city
The canals, classic boats, old canal houses, and distilleries immediately put you in a holiday mood. Rising over eat houses are the tulles windmills in the world. Head to Windmill De Walvisch to start your personal tour of the windmills.

Distillers district
In Schiedam, you can smell, taste and see gin everywhere. Many buildings are reminders of the time Schiedam was the international HEART OF GIN INDUSTRY (Jenever in Dutch). Do not leave without trying our traditional beverages! Pop into one of the bars to savour a delicious SCHIEDAM G&T or ask for a tasting.

Museum quarter
Be sure to visit the museums in the Museum Quarter. If you want to know everything about the history and production processes of gin, do not miss the National Jenevermuseum Schiedam. Are you an art lover? The Stedelijk Museum Schiedam exhibits Dutch art after 1945.
Must see in Schiedam
Canals, canal houses and drawbridges
Distillers district
The tallest windmills in the world
Contact / Contato
Mobile / Whatsapp: +31(0)6 498 69 004
E-mail: info@go-experience.nl
Or fill out our contact form below: