Winter tours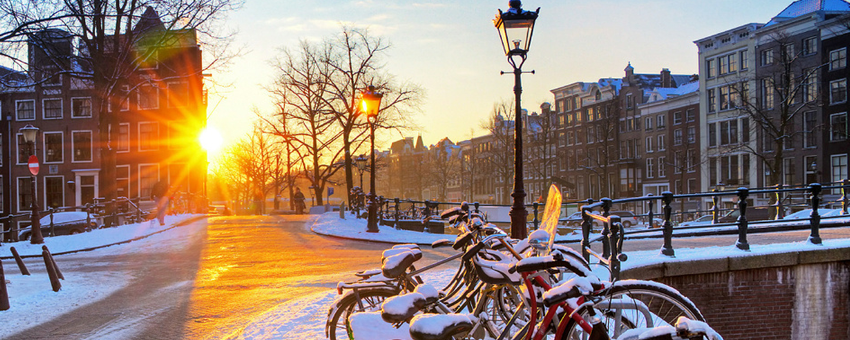 Discover Holland and Belgium in the winter
GO Experience offers travel services throughout the year in the Netherlands and Belgium. During the winter we organise special guided tours, tickets to exhibitions and shows, tours to the best Christmas Markets, beer and food tastings, Light Festival boat tours to enjoy the skylines and lightening art, ice skating (class) and delicious winter (Christmas) dinners.
Winter Season
Every season has something unique and interesting to offer. The typical weather, the changing scenery, festivals, activities, festivities, their own beer and sights. The winter season offers beautiful (white) winter landscapes, snow dolls, ice skating, bon fires, oliebollen and waffles, special winter food, hot chocolate, warm wine, Christmas markets and shopping, fairytale lighting, picturesque villages and New Year Eve's fire works.
The winter is so romantic! The intimacy of the old centres with lovely canals, the many shopping streets with their decorative lighting and beautiful windows, Christmas trees and of course the countless welcoming pubs and great restaurants. It often seems several degrees warmer than it really is in wintry Holland and Belgium, just because the atmosphere is so pleasant.
Christmas
Christmas is a romantic festivity with illuminated Christmas trees, decorative lighting and beautiful windows and Christmas markets. Experience one of the many Christmas markets. Some will only be there for a few days and others for a month. Like the market in Dordrecht, during one weekend it features over 200 stalls arranged in practical categories that include a hobbyists square, winter themed gifts and music, art and antiques. The Christmas market in Valkenburg – located at the foot of the well-known Cauberg – is the largest, oldest and most visited underground Christmas market in Europe and will be there for over a month.
In Belgium the most famous Christmas Market is the one in Brussels. From the end of November until the first week of January a large part of the center of Brussels that is car-free, the Brussels Christmas market expands from the Grand Place until Place St. Catherine, also including the Vismarkt, de streets around the Beurs and the Muntplein. It has an ice-skating rink, a Ferris wheel, a light show, a huge Christmas tree and, of course, the Christmas market with over 200 stands.
Did you know!? In Holland we celebrate Christmas Eve on the 24th of December and 25 December is first Christmas Day and 26 December is second Christmas Day.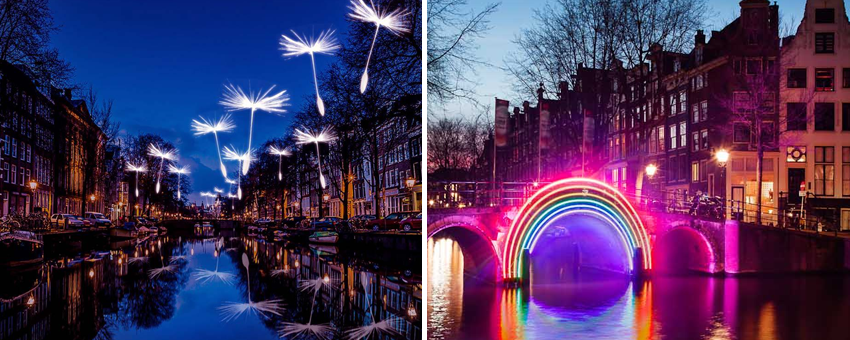 Amsterdam Light Festival
For the seventh edition, artists from home and abroad take you on a journey along 30 light artworks specially created for Amsterdam. The 53-day exhibition revolves around the theme 'The Medium is the Message', the famous statement by the Canadian scientist Marshall McLuhan. The role of light in conveying a message and the city of Amsterdam as a medium for telling stories are central to this edition.
Experience the Amsterdam Light Festival, admire the artworks, with a guide or audio tour. Together with these partners we offer a number of possibilities to take a canal cruise, bike tour or walking tour, for example, with just the two of you, the whole family, or as an office outing.
For more information or booking a tour, send us an e-mail at info@go-experience.nl or fill out the contact form below.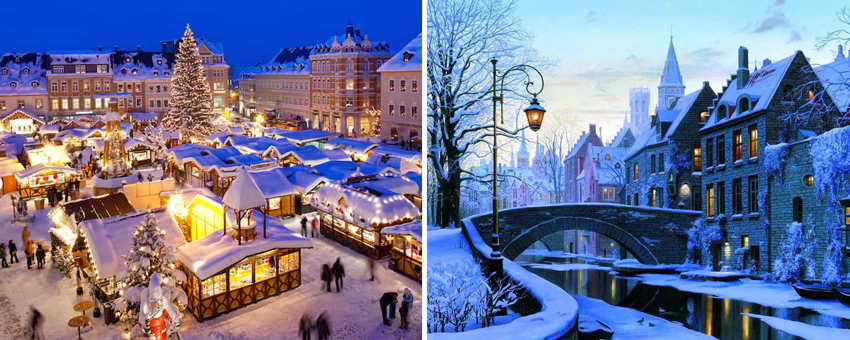 New Year
New Year's Eve is a big party every year. Most people spend the evening with friends or family, watch the famous 'New Year's Eve conferences' and drink plenty of champagne while eating greasy oliebollen (a traditional Dutch pastry: deep-fried dough balls with raisins) and apple beignets. Until the fireworks explode at midnight… Than the partying starts.
Fireworks
In Holland everyone is allowed to buy their own supply of fireworks to light up the sky, which many people do enthusiastically. While fireworks are officially allowed for one hour on New Year's Eve, there is a lot of popping and banging throughout the day and night.
RSVP
Big cities celebrate the party with gusto. Big squares are filled with people. If you want to celebrate New Year's Eve at a bar restaurant or club, it is likely that you will have to book tickets well in advance.
Want to start the new year afresh?
If you are in Holland on January 1st, you can participate in an extraordinary tradition: The New Year's Dive. The morning of New Year's Day begins with a refreshing dip into the sea or lake in over 200 locations. The biggest event with the greatest number of participants can be found in Scheveningen.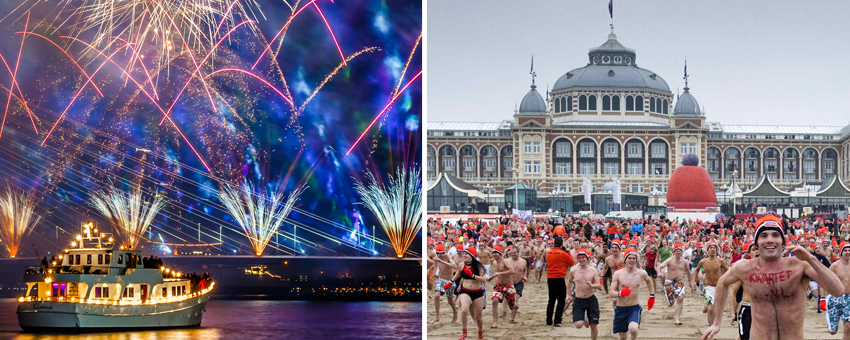 Visit The Netherlands or Belgium? Our enthusiastic team of advisors is dedicated to meet your wishes and demands.
Together we will create an unforgettable experience! If you wish an example of an itinerary or a tour, please let us know and we can send it to you by e-mail.
Contact GO Experience
If you want more information about Winter Tours in Holland and/or Belgium, or you have an inquiry we can help you with, please don't hesitate to contact GO experience:
Mobile / Whatsapp: +31(0)6 498 69 004
E-mail: info@go-experience.nl
Or fill out our contact form below: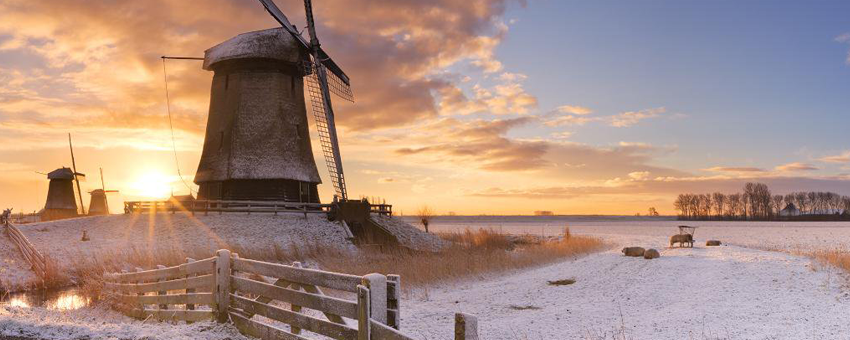 Incoming tour operator Holland | Incoming tour operator The Netherlands | Incoming tour operator Belgium | Destination Management Company | Winter Tour Holland | Winter Tour Belgium | DMC The Netherlands | Destination Management Company | DMC Belgium | Local travel partner The Netherlands | Local travel partner Belgium | Event organisation The Netherlands | Passeios e roteiros Holanda e Bélgica