Hansa Towns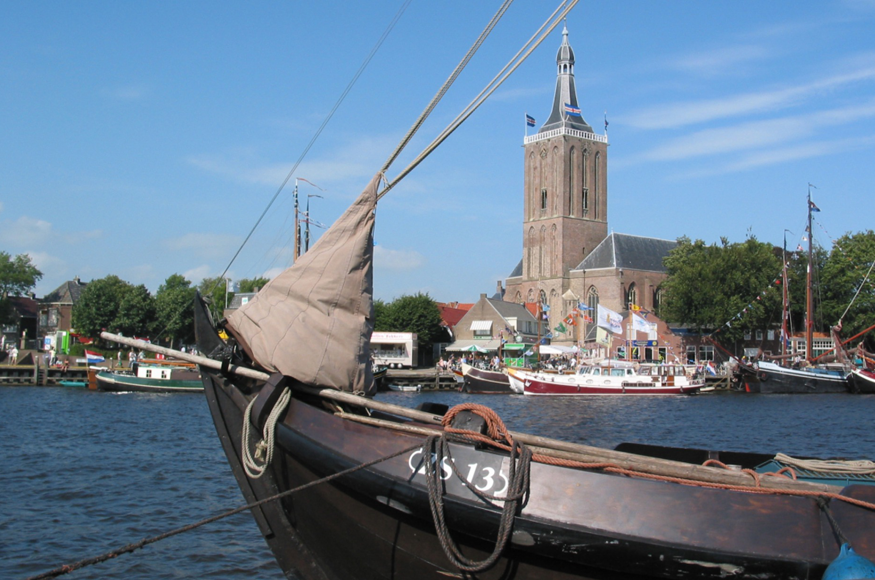 Hansa Towns as a travel destination
The goal of the Hanseatic League, which was founded when Amsterdam was still a tiny settlement, was to expand commerce and spread knowledge. Dutch cities like Hasselt, Zwolle, Kampen, Hattem and Deventer were members of this league, and this chapter in their history is still clearly visible in the many 14th and 15th-century monuments. Most of these are found by the water's edge, as waterways represented crucial transport routes, and possess a rich history and unique façades. In other words, when in Holland, a visit to at least one Hansa town is almost compulsory.
Hasselt
Hasselt is a small Hanseatic town with a grand history and beautiful centre, situated on the banks of Het Zwarte Water (the Black Water) into which the river Vechte discharges.
Hasselt is home to over 70 national monuments, many of them beautifully restored buildings. The most important of these buildings is probably St Stephen's Church, which was completed in 1497 and is famous for its famous organ (built by Rudolph Knol) and its mural depicting St Cristopher. Other sights worth seeing include the old town hall and the lime kilns.
What makes Hasselt unique is that it is, in essence, a miniature version of Amsterdam. In its old centre, you will find a very similar arrangement of canals, bridges, quays and sluices. So take a pleasant walk along Heerengracht, Prinsengracht and Brouwersgracht, or explore Hasselt along its waterways on a boat round-trip.
Kampen
Kampen, in the province of Overijssel, is a Hanseatic town with a centuries-long tradition of commerce and shipping. Its former prosperity can still be seen in the beautiful monuments in the old centre.
Kampen has an ancient tradition of commerce and shipping, and you can tell. This Hanseatic town has over 500 monuments, including the Church of St Nicholas, the Gothic house, the town gates and a replica of the Medieval merchant ship De Kamper Hanze Kogge. With all these impressive monuments to behold, the best way to explore the historic town centre is on a walking tour. From Korenmarktpoort gate, head to the old Vispoort gate on IJsselkade quay, close to the old town hall, where the fish market has been held since the 14th century.
If you want to know more about the history of Kampen, visit the Stedelijk Museum. Kampen has always been an entrepreneurial settlement, with – among others – tobacco factories large and small, the only survivor of which is De Olifant. Today, it is a museum, where you can witness cigars being rolled by hand, and also home to the longest cigar in the world!
Zwolle
Zwolle is a lively Hanseatic city with a medieval center. The city invites you in for shopping, cultural events and days out.
The city has a medieval center, a magical theater, a large variety of shops, marvelous hotels and restaurants, and several lovely parks. Zwolle really does offer everything you'd expect of a modern city, yet also preserves the intimacy of the past. The historic facades, the city walls and towers, the 600-year-old Sassenpoort (city gate) and star-shaped city canal, flanked by impressive merchants' houses and trees, are Zwolle's distinguishing features. The wonderful lanes and impressive fortresses invite you to explore this city.
Hattem
In the Veluwe region, in the forelands of the river IJssel, lies the charming Hanseatic town of Hattem. This 800-year-old town has a rich history that is still clearly visible today.
Hattem is an 800-year-old town with gorgeous monuments to admire. For instance, you cannot afford to miss St Andrew's Church, a Romanesque edifice whose foundations were laid as far back as 1200 and that still has many elements from that time, such as a unique 13th-century baptismal font. The 17th-century town hall and the town's characteristic entrance gate, the 'Dijkpoort', are also among the icons of this charming town.
Aside from unique buildings, Hattem is home to no less than 3 museums. In the Voerman museum, you can learn more about past history. At the Anton Pieck Museum, you will step into the fairy-tale world of Anton Pieck, best remembered today for De Efteling theme park. In the Bakery Museum, you will learn the history of bread and baking – fun for the kids, as well!
Beyond all the gorgeous buildings and culture, Hattem is surrounded by gorgeous nature. It is situated in the Veluwe area, well known for the wonderful hikes and cycling trips to be taken there, for instance across the estate of castle Molecaten. An observation tower has also been constructed here, commanding a breath-taking view of the area.
Deventer
Deventer is a centuries-old Hanseatic town by the banks of the river IJssel. The city embodies its long and rich history, with magnificent monuments, handsome squares and old museums, with a very pleasant atmosphere and plenty of opportunities for those who like to experience a city through its shopping streets, cafes and restaurants.
If you wish to taste the atmosphere of this centuries-old Hanseatic city, the best thing you can do is take a walk. Walk past the many monuments, squares, churches, museums, and more – there is more than enough to discover. For instance, as well as boasting the oldest stone house in Holland, Deventer is also home to Holland's oldest library, the Atheneumbibliotheek, and Holland's oldest park, the Worpplantsoen.
Two further exceptional buildings in Deventer are the city hall and the beautiful Gothic St. Lebuinus Church, both to be found on the Grote Kerkhof (Great Church Square). And if you like museums, both Museum De Waag and the Speelgoedmuseum (Toy Museum) are well worth a visit. Nature lovers, meanwhile, will find a walk along the riverside positively enchanting.
Should you feel like relaxing by shopping for a bit after immersing yourself in its culture and history, Deventer offers plenty of shopping opportunities to suit any taste and budget. The best shopping streets are the Lange Bisschopstraat, the Korte Bisschopstraat, the Smedenstraat and the Engestraat.
Contact
For more information about itineraries, tours or excursions to visit the Hansa Towns or the Benelux, contact us:
Mobile / Whatsapp: +31(0)6 498 69 004
E-mail: info@go-experience.nl
Or fill out our contact form below: