Gouda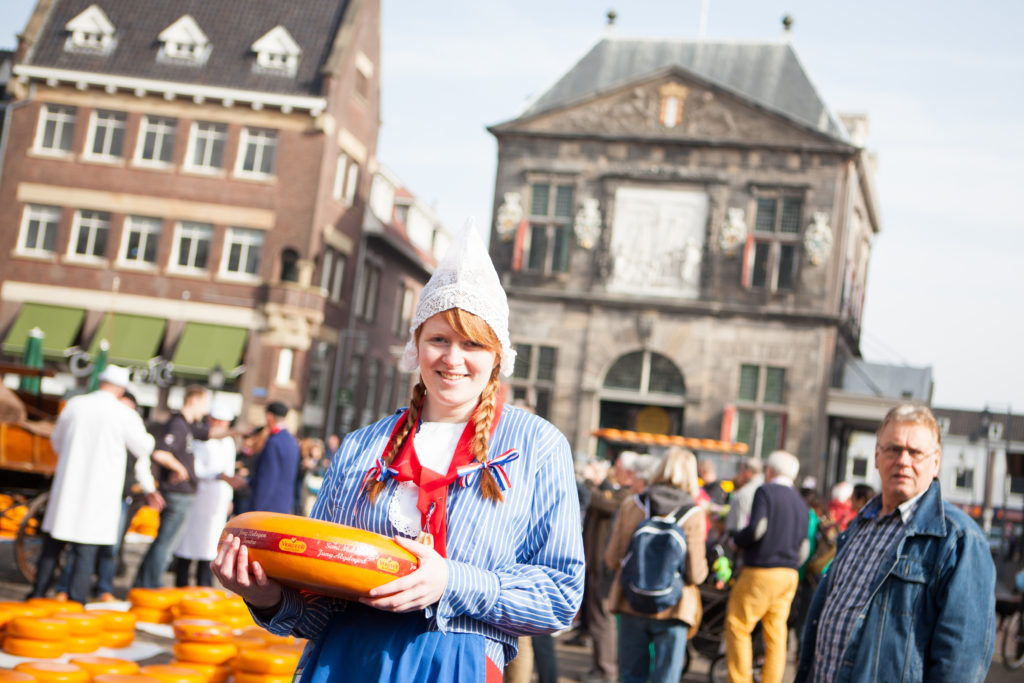 Gouda as a travel destination
Gouda, the historic city in the province of South Holland, is known world-wide for its Gouda cheese, its candles, pipes and delicious stroopwafels. But Gouda has much more to offer than that alone. As a matter of fact, Gouda has one of the most beautiful historic city centres in Holland, full of splendid monumental buildings to admire and ancient canals with attractive terraces and pleasant shops to promenade past.
Wander through narrow picturesque streets, visit the cheese market or the Sint-Janskerk -the longest church of the Netherlands with 72 big renowned glass stained windows, discover interesting museums, taste syrup waffles and cheese or stroll on over one of the most beautiful market squares in Europe with a historical town hall!
Gouda is centrally located in the green heart of South Holland and easily reachable from Utrecht, Rotterdam, and The Hague. It is just a 30-minute ride by car and public transport. Amsterdam is about 45 minutes away from Gouda. Step out of the railway station and into the city center. Your car is easily parked in one of the underground car parks on the edge of the inner city.
What is there to do in Gouda?
Gouda's centuries-old historic centre features splendid monuments, such as the Sint Janskerk. This church, measuring 123 metres long, is the longest church in Holland and is world-famous for its Gouda windows. Another must-see is the old City Hall, a beautiful monument dating back to 1450. Be sure to note the carillon on the right side façade, whose mechanical dolls come to life to put on a wonderful show at two minutes past every half and full hour.
Of course, one cannot go to Gouda and not visit the Gouda cheese market! This historic spectacle can be experienced from April to August on Thursday mornings from 10:00 to 13:00 (except on Ascension Day). See how the cheeses are brought in on traditional wagons known as briks, and how the farmers and merchants negotiate deals in the old way in front of the Weigh House. While there, be sure to visit the Cheese and Crafts museum in that beautiful building, the Gouda Weigh House, and discover how the delicious Gouda cheese was made and weighed.
In December of each year, Gouda celebrates its famous festival of light, Gouda by Candlelight. During this festival, thousands of visitors flock to the city to enjoy the many Christmas choirs and witness the spectacle of the City Hall and other monumental buildings on Markt square lit with thousands of candles. The climax of the evening is when the thousands of lights on Markt square are turned on. It's magical! Its splendid history aside, Gouda's streets are also great for shopping, with stores ranging from well-known chain stores to authentic boutiques and unique gift shops, cheese shops and ateliers selling stylish jewellery.
Gouda
Gouda é mundialmente famosa pelo queijo, stroopwafel, cachimbo e cerâmica. Percorra as ruas estreitas e pitorescas, visite o mercado de queijos e a Igreja de São João (Sint-Janskerk), a maior dos Países Baixos, com 72 grandes janelas com vitrais. Vá aos museus interessantes, prove as delícias locais stroopwafel e queijo e passe por um dos mais belos mercados ao ar livre da Europa, além do histórico prédio da prefeitura!
Contact / Contato
Mobile / Whatsapp: +31(0)6 498 69 004
E-mail: info@go-experience.nl
Or fill out our contact form below: