Giethoorn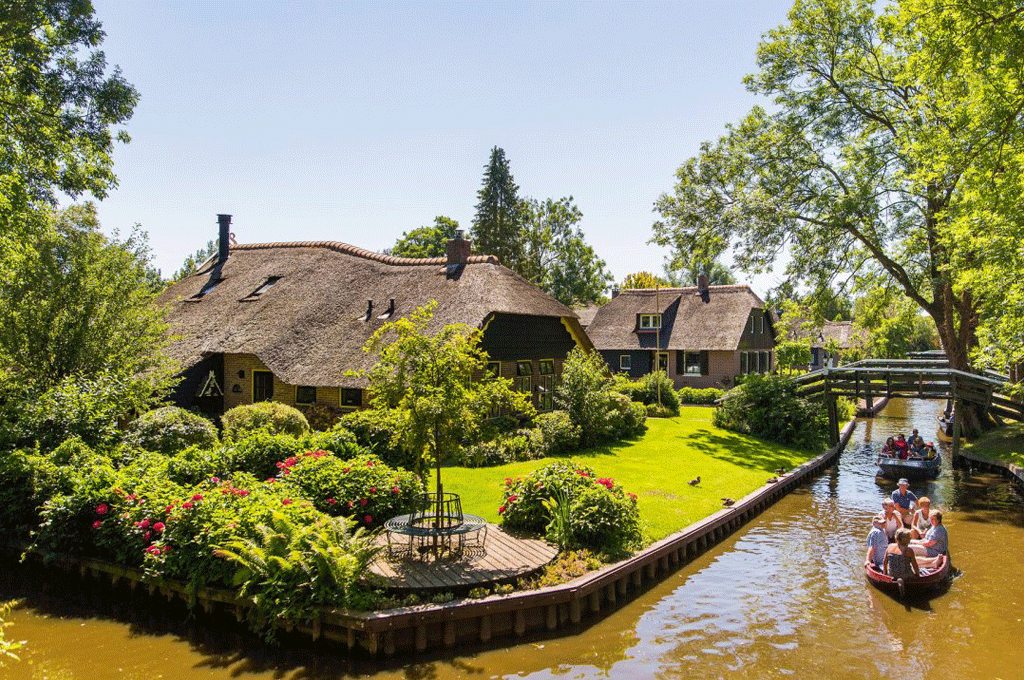 Giethoorn as a travel destination
Giethoorn, located in National Park Weerribben-Wieden, is an idyllic village in Overijssel where countless thatched farms have been built on small peat islands connected by over 170 small wooden bridges.
In Giethoorn, a typically Dutch village in Overijssel, you can perfectly see how the Dutch love to live with and on the water. In an environment full of lakes, reed beds and forests lies this picturesque village with its many handsome farms with thatched roofs and characteristic wooden bridges.
Giethoorn was established as a settlement of peat harvesters. Peat cutting created ponds and lakes, and people built houses on the islands between them. As a result, access was only possible by bridge or using traditional Giethoorn boats, so-called punters – narrow boats pushed along using a long pole by a punteraar.
Fortunately, little has changed in Giethoorn. The tall wooden bridges are still there, and you can still travel the waters on a punter, as well as on an electric boat or a tour boat. A 1 or 2-hour boat tour takes you past the gorgeous 18th and 19th-century farmhouses and under the bridges.
OUR SERVICES
We can support with organizing (theme) tours, itineraries and accommodations. Giethoorn is worth a day trip from other cities in Holland like Amsterdam, Leeuwarden or Utrecht. For more information, see our contact information and form below.
Contact / Contato
For more information about tours, packages or accommodations in Haarlem, please send us an e-mail or fill out the form below.
Mobile / Whatsapp: +31(0)6 498 69 004
E-mail: info@go-experience.nl
Or fill out our contact form below: